It takes a lot of time and effort to establish a business. It also involves a lot of money, and it will probably be one of your biggest assets, if not your biggest. It is, therefore, crucial to protect your business from various threats, such as divorce.
Protect Your Business from Divorce
There is no guarantee against divorce. Any marriage is an act of faith, and there is no way of foreseeing the future. When you face a divorce, you must find the best divorce attorney to protect your interests. Long before that, however, you must have already taken steps to protect your business from it.
If you are single when you establish the business, Inc advises that the best way to protect it from a divorce in your future is to have a prenuptial agreement before you get married. Both parties must voluntarily enter upon the prenup. The signing must be witnessed and notarized.
Without a prenup, the business will become marital property. If you live in a community-property state, the business will be split equally between you and your spouse. Community-property states include California, Louisiana, New Mexico, Washington, Arizona, Idaho, Nevada, Texas, and Wisconsin.
All other states are equitable-distribution states. This means that assets are divided according to state guidelines, and between 25 percent to 50 percent of your business will go to your spouse.
A prenup can specify what percentage of company value you are willing to pay your spouse in the event of a divorce. This means lower than 25 percent. Alternatively, you can keep your company totally out of any divorce settlements.
If you do so, prepare to give up more of your marital assets, such as the family home and other properties. Indicate that your spouse will not own company stock and will not be involved in the business. Corporate assets and bank accounts must be separate from those of the family.
If you agree to pay your spouse a small percentage of the business's value upon divorce, the prenup will state how the company's value will be determined. This usually means getting two to three independent appraisers and using the average from their findings.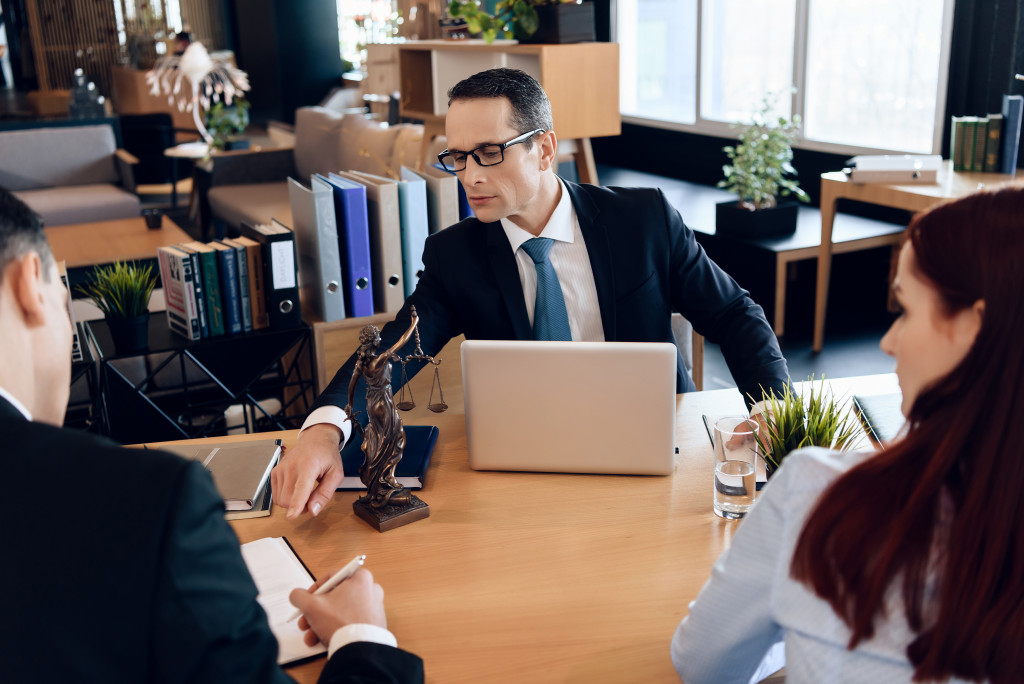 The prenup must also state that any payout to your spouse will be extended from five to 10 years. This will protect your business from having to shell out a large amount at one time. Worse, if the company does not have enough cash on hand, it will have to liquidate assets to pay off your spouse.
If you are already married and you want to put up a business, you can ask your spouse for a postnuptial agreement if you will not be using any of your family funds for it. If the business is funded by investors or by loans tied only to the business, it can be separate from marital property.
It is not only your own possible divorce that you must protect your business from but also any future marriages and divorces of your children. Do not give your children company stock because this can become marital property when they get married.
If you do not get along with your spouse, it will bring in a dissenting voice. If your child gets divorced, their spouse can get a share of the stock. One solution is to give only restricted stock, which cannot be passed on from the original recipient and cannot be sold.
Business Insurance
The U.S. Chamber of Commerce advises all business startups to get business insurance that will protect against various situations. A business owner's policy (BOP) is best at the minimum because it includes general liability insurance, business income coverage, and property insurance in one, thereby costing less.
General liability insurance covers any payments the business must make for injuries to persons or properties on the business premises. Business income coverage pays back the business for any expenses or losses from a fire, flooding, or any other event covered by the plan. Commercial property insurance pays back the business for the loss of property, furniture, and equipment due to theft or natural disasters.
Depending on the nature of the business, it may also need additional coverage. Professional liability insurance provides the business with funds to indemnify customers for harm caused by its services. Product liability insurance provides the business with funds to indemnify customers for harm caused by its products.
Businesses with employees need workers' compensation insurance to indemnify employees injured or made ill at work. Businesses run from the home need home-based business insurance in addition to home insurance.
In today's digital world, businesses also need insurance to cover costs from data breaches. This is on top of getting the best cybersecurity the business can afford.
Keep Your Business Covered
It is not enough to work to make your business successful and profitable. You must also ensure as much protection as possible for that success.