We all know that remote working has many benefits. It gives us more free time outside of work. It keeps us safe from the dangers of COVID-19. And it makes us feel more restful because we're not worrying anymore about things such as commuting.
In the last couple of months, more people are discovering how much they prefer this set up even after the COVID-19 pandemic ends. In fact, a survey found that 59 percent of people working from home right now want to work remotely as much as possible.
But a downside of working from home is getting hit by cabin fever. You might feel stir-crazy when you stay indoors for far too long. A quick solution to that is simply working outdoors. You have the whole expanse of your backyard to enjoy some fresh air as you accomplish some tasks for the office. Here's how you can turn your backyard into the ultimate outdoor working space.
Surround Yourself with Flowers and Greenery
First and foremost, you must think about improving the landscape of your backyard. Surrounding yourself with a brown lawn, dying trees, and wilting flowers won't inspire you to be creative and productive. So start with bringing more life to the environment of your backyard. Use this as the perfect excuse to acquire lawn and landscaping services.
But improving your backyard's landscape is not just for aesthetic purposes. There are many studies that have found that surrounding yourself with plants has benefits to your work performance. One of such studies found that plants can increase your productivity by 15 percent. Another study found that plants can help increase creativity by 15 percent as well.
Ensure Your Power and Internet Connection
The next thing that you have to think about is your power source. Although, some people might not worry about this anymore. It's because they could just work outdoors when their laptops are fully-charged. Even so, it's still better to ensure you have a power source if you quickly need to plug your charger in.
If you have a nearby electric plug on the side of your house, then great. You won't have to worry about this anymore. If not, you can opt for extension cords. You might hesitate, though, because we've heard once or twice that plugging laptop chargers in extension cords are bad. Contrary to that belief, you just need to use a powerful extension cord. A good one is an outdoor extension cord that's often used in heavy machinery such as lawnmowers.
Internet connection is also a cause for concern. If you have quite an expansive backyard, you might lose your connection to the WiFi. But there's a quick solution to that. You only need a WiFi extender.
Use the Proper Furniture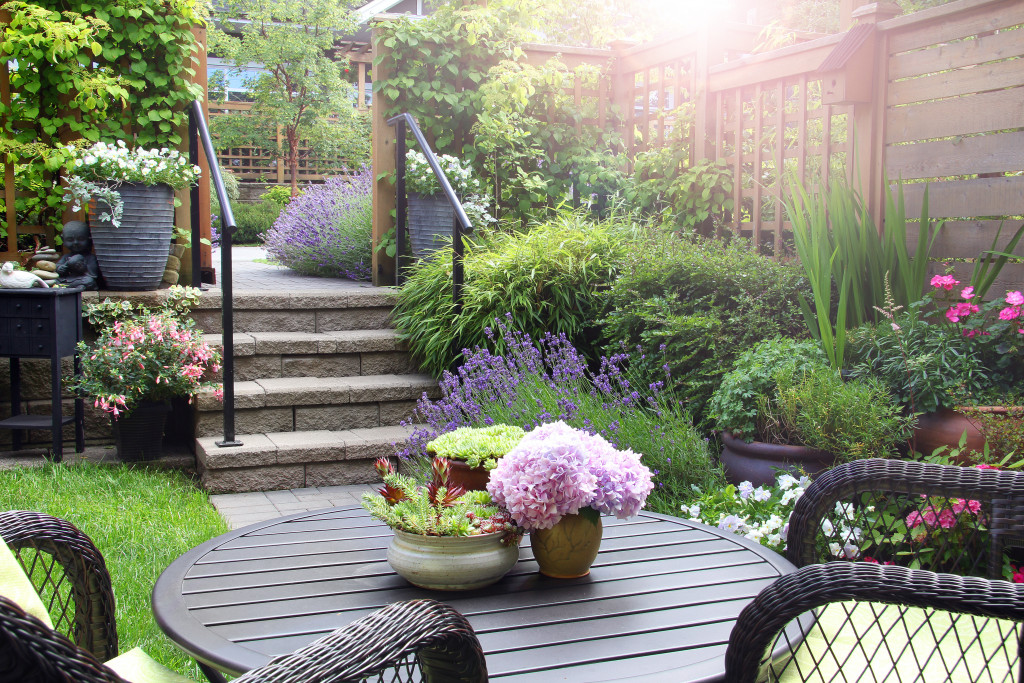 Many people said that a good benefit of remote working is that you can basically work in bed or on your couch. You can lounge around in your pajamas and attend virtual meetings without even brushing your teeth first. You can basically work anywhere. Because of this, you might sometimes forget the importance of using the proper furniture when you're working. You need to think about matters such as the back support of your chair.
So when you set up your outdoor workspace, you can't exactly resort to using the outdoor living set. They're uncomfortable and inappropriate for hours of working on a computer. What you can do is improve your outdoor dining set instead. Find the perfect set that can be converted into a desk during the weekdays. You can also use this table as a co-working space for other people in your home who are also remote working.
Make Sure You Have a Shade
You might forget about this when you're converting your backyard into a workspace. After all, getting a healthy dose of vitamin D from sunlight is one of the appeals of working outdoors. But staying under the sun for too long can be bad so be sure to buy a shade that you can use when the sun is at its highest.
A shade is also crucial for your gadgets. Staying under the sun can cause them to overheat. Severe overheating can cause a laptop's internal components to die down. As someone working from home, protecting your laptop at all costs is a must.
The COVID-19 pandemic is shifting our work practices. It's changing how businesses are run. And so remote working is becoming the new normal. Most of us are getting comfortable with this setup and we may never go back to the office at all. So it's only right that we do everything we can to enhance our work-from-home experience by creating an outdoor workspace.