The elderly in communities need to remain stimulated to keep their spirits up. Senior adults should be allowed to continue contributing to the community, even in small ways. These activities will allow their minds and bodies to continuously feel energized to face each day despite whatever conditions they might be facing.
Caregiving is a draining job, and it is not for everyone. Being a caregiver is exhausting, but it is a rewarding experience to help out the senior adults in the area. For families with intense work schedules and everyday lifestyles, palliative care services can assist them in caring for their loved ones while they work. It is important to keep seniors from feeling isolated to maintain their positive outlook in life during their retirement years.
As you continuously provide for the senior adults in the community, it is essential to learn new ways to improve their quality of life. During their golden years, these seniors want to make the most of their time with family and close friends. Allow them to stay connected while keeping them safe and healthy.
Getting Them Involved
The elderly community needs to stay socialized and connected to keep their minds sharp. Being involved in a community will give them a sense of purpose. As individuals grow older, we often lose touch with some friends and family. This may be detrimental to our mental health as we lose precious connections with loved ones.
It is important to keep senior adults involved in a community to help them live longer with better quality of life. While it may still not be possible for some areas to go out and mingle, the senior community should be assisted with technology and apps that can help them connect with loved ones from a distance. Involvement in a community will keep these senior adults healthy and fit.
Keep It Entertaining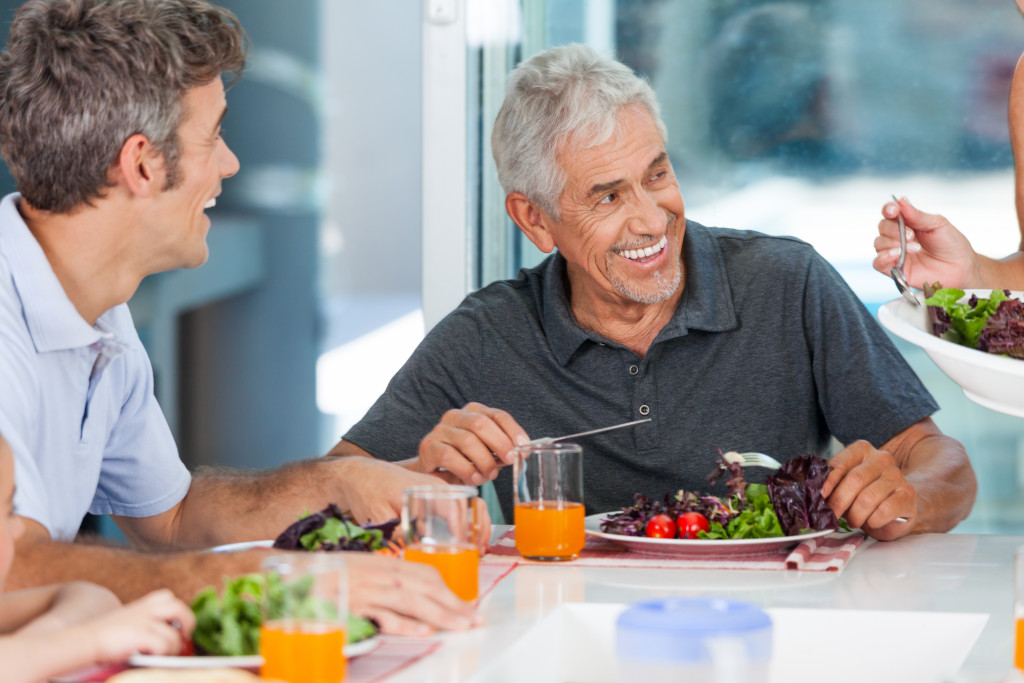 Some families might be stricter than others when it comes to following COVID-19 protocols. If you still can't allow your senior household members to venture out now and then, at the very least, you could suggest activities that they could do at home during their spare time. Senior adults need mental stimulation to keep their brains sharp and fit. Here are some activities you can suggest to your elderly household members.
For senior adults who have skills in transcription, they could try helping out in virtual museums. Virtual volunteer work at these museums can involve transcribing important documents for the institution. Not only will it keep them preoccupied, but it will also be a good way to keep their minds sharp by learning new information related to conservation and museums as an institution.
Help them learn a language through the various available apps online. It is never too late to sign up for a language class or an informal language tutorial. They could even practice your newfound skill by watching foreign films on movie streaming sites.
Cook a new meal or ask them to teach you their specialty. Finding common interests that are fun to do, such as cooking or baking, can help you pass the time while making something for the whole family.
You can also reminisce about the old times by going through your old family photos. This can help them feel good about their younger years and help you bond over the rich stories they have in store.
There are many activities you can suggest to the elderly in the household. What is important is how you stay present and attentive to their needs to make them feel loved and valued despite the situation.
Enhancing Their Quality of Life
When caring for older adults, enhancing and maintaining their quality of life is essential in keeping them happy. It is important to help maintain their positive outlook on life to avoid making them feel isolated, which could be detrimental to their emotional health.
It is important to focus on the senior family member and what they want. Include them in making decisions about their situation and involve them in conversations of family matters. This will help make them feel like a valuable part of the family.
Educate yourself about what you could do in terms of eldercare. Stay up to date with the various technologies and available materials to enhance your methods of taking care of your senior loved one.
It is important to prioritize your senior loved one's well-being, especially during this stressful time. Despite staying at home most of the time, this setup may have become a distraction that caring for the seniors at home might have been unintentionally neglected. Prevent this from happening by properly managing your daily schedule with the family.
Caring for senior adults is a tough job, but it is a loving task. Witnessing the nuances of growing older is an intimate family experience that is most valuable. Make the most out of the time you have with your family and do your best to give them what they need.