Running a delivery fleet is a high-earning business. Delivery services are now in demand, so there's a lot of potential for profits. Here are some tips to help you start and run this business.
Running a Successful Delivery Fleet Business
1. Get the proper permits and licenses.
Before operating your delivery fleet, make sure you have all the necessary permits and licenses. Check with your local government to find out what you need.
2. Find the right supplier.
You need to find a supplier that can provide you with the right vehicles and parts for your delivery fleet. Do some research to find a reputable supplier that offers competitive prices.
3. Purchase good quality used vehicles for your fleet.
These cost much less than brand new vehicles. Make sure you have a mechanic look each one over before you buy it, though, to ensure that it is still in great condition and will serve you for years.
4. Choose the right type of vehicles for your needs.
Different types of deliveries have different requirements. You need to decide what types of deliveries you will be making to know what size vehicles you need and what features they should have.
For instance, if you intend to have a fleet for food deliveries, you may need a mix of small cars and motorcycles. On the other hand, you will need vans and trucks if you intend to deliver large packages.
5. Keep your vehicles well-maintained.
Regular maintenance is essential to keeping your delivery fleet running smoothly. That includes regularly checking the oil levels, tire pressure, and brakes. It's also good to have a mechanic do a check-up and tune-up every few months to ensure that everything is in working order.
6. Have windows tinted.
Get your vehicle windows tinted. That will help protect your deliveries from the sun.
7. Keep your vehicles clean.
Your delivery fleet should be presentable and professional-looking. That means keeping your vehicles clean, both inside and out.
8. Consider using alternative fuel sources.
Not only is this better for the environment, but it can also save you money in the long run. Look into using biodiesel for your fleet.
9. Hire the right drivers.
Hire drivers who are trustworthy to ensure that there will be no pilfering. Be sure to do a thorough background check on each one. That will help you avoid hiring anyone with a criminal record or bad driving history.
You should also hire drivers familiar with the area where they will be making deliveries to avoid getting lost and wasting time.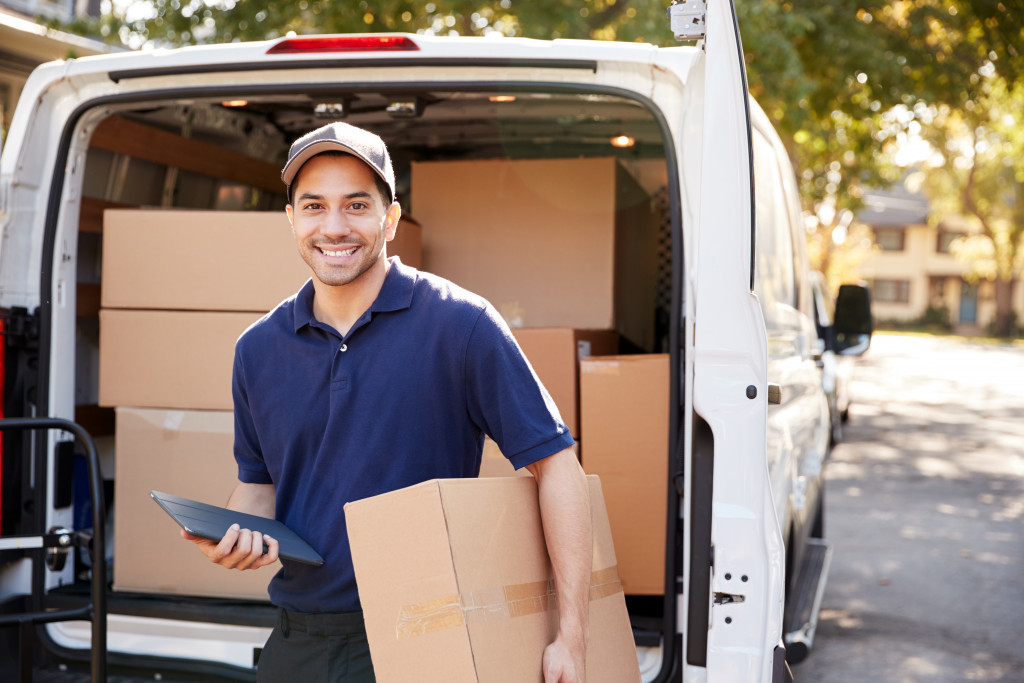 10. Train your drivers.
Make sure your drivers are properly trained in defensive driving and your delivery software. Drivers should also be familiar with the area they'll be driving. Ensure that they obey all traffic laws and regulations. That will help keep your drivers safe and avoid costly tickets and accidents.
11. Make sure your insurance is up to date.
That is a must in case of accidents or damage to your vehicles.
12. Keep track of your expenses.
You need to know how much you're spending on fuel, maintenance, and other costs associated with running your delivery fleet. That will help you budget and make informed decisions about where to cut costs.
13. Use delivery software.
Many software programs are available that can help you with routing, tracking, and billing. Do some research to find the one that best suits your needs.
A routing system will enable your drivers to map out their delivery route to plan their deliveries and make the most efficient use of time and fuel. A tracking system will help you keep tabs on your vehicles and deliveries. That is especially useful if you have a large fleet. A billing system will ensure that your clients are billed accurately and on time.
14. Allow for traffic.
Be realistic about the amount of time it will take you to get from point A to point B so that you do not set unrealistic expectations among your customers. Factor in traffic, road construction, and other delays that could impact your delivery time. Use software that enables each customer to track their delivery.
15. Get the word out about your business.
Have a professional website. Use social media to get the word out about your delivery fleet business. Create a Facebook page, and Twitter account for your business and post regularly to promote your services.
16. Advertise your services.
Make sure potential customers are aware of your delivery services. Place ads in local newspapers and online, as well as on flyers and business cards.
17. Offer discounts.
Consider offering discounts to regular customers or for larger orders. That will help you attract and retain business.
18. Join a delivery network.
There are networks available to connect you with businesses that need delivery services. That can help you expand your customer base and get more deliveries.
Drive for Success
Running a delivery fleet can be a daunting task, but you can make it a success with the right tips and tools in your arsenal. By following these tips, you'll be on your way to running a smooth and efficient delivery operation. Soon you'll be adding even more vehicles to your fleet.