Who doesn't love dogs? Even those who are allergic to them love them? There are very few people—and with good reason, too—who don't like them. They're the cutest. But they're also the dirtiest when you have them at home. Having many dogs at home can cause bite-sized heart attacks whenever you see the carpet full of their fur or the sofa bed with their dirty paw prints. But would you rather not have them at all? We doubt it.
But even though you love dogs and don't want to let them go because you want a clean home, that doesn't mean you're also having fun while cleaning after them. Why do you have to suffer at all, anyway? Isn't there a way for you to have dogs and not have to your house from top to bottom all the time?
Make Your House Free of Pests
One of the reasons why some families cannot have dogs is because of their ticks. They love to bite humans. If you have dogs at home, ticks are almost always normal. But they're also annoying. Plus, they do bring health problems.
So, what can you do? Call a pest control company and have them inspect your home where ticks and other pests might reside. They usually have a cleaning and pest control solution for these kinds of problems. The "medications" usually last for a year or so. You need to have them repeat it once the solution is no longer active.
Use Outdoor Rugs Only
Yes, that shaggy carpet you see in your friend's house looks nice. You want to have it in your home, too. But remember, you have about three dogs whose fur will probably be all over that carpet. Not to mention, they'll be dirty all over and lounge on the rugs. Your choice is to use outdoor rugs. There are a lot of stylish and colorful designs to choose from.
They are easy to clean. They also catch dirt and water from your dog. You might also want to check out carpet tiles. This way, if one tile got too dirty for your liking, you can replace the square instead of the entire carpet or rug.
Prefer Dark Paint for Surfaces
Pet owners don't usually mind wiping surfaces that their dogs got dirty. But over time, this can be tiring. You can paint kitchen cabinets with a dark color. They hide marks from wet noses and muddy trails. Choose a color with a glossy coat so that it's easier for you to clean. As much as possible, paint the areas where your pets stay for a long time with this shade.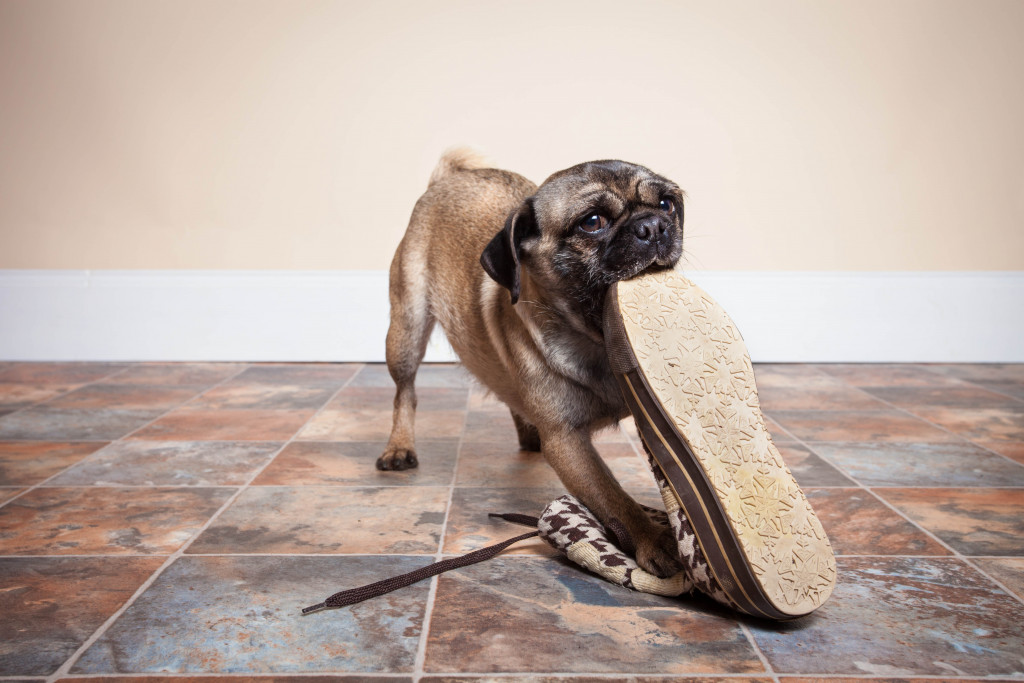 Use Cooking Spray for Their Bowls
When you forget to clean their bowls after eating, what little dog food is left there usually sticks to the bottom of the bowl. It's hard to clean that unless you soak the bowls in warm water. But why waste time when you can give them a quick spritz of cooking spray? That will keep the stain off the food bowls. You should also put a placemat under each bowl so that the food doesn't get to the floor.
Brush Their Fur Regularly
Do you have a Lhasa Apso, Shih Tzu, or a golden retriever? They shed so much fur that your house will look like it has been wrapped in a shaggy rug, right? By brushing them regularly, you are taking back control of the shedding. Brushing reduces shedding and keeps their fur healthily. You might want to do the brushing outside as that will prevent their hair from clinging to your furniture inside.
Pick the Right Sofa Fabric
As you probably already know, your dogs love to sit on the couch. This means that they'll get their fur and other bodily specimens on the sofa's fabric. That's why you should choose the right fabric for the sofa. Instead of cotton, pick leather or microfiber cloth for the sofa. A thick weave fabric is also a good choice. If you don't like any of these options, make sure to use a powerful vacuum cleaner to remove fur from the sofa every day.
Your concerns about keeping your house clean should not be a reason for you not to enjoy having dogs at home. There are preventive measures for this. Try not to think too much about what kind of work you have to do to keep the house clean because of the dogs. Focus on the joy they bring to your home.