Good employees continually look for ways to advance in their careers. They ask questions, establish networks, work on their goals, and level up their learning through training and development. In other words, they play an active role in exploring multiple avenues within their professional career path.
In Singapore, fresh graduates take it upon themselves by pursuing skills mastery through comprehensive training programs and certification courses. SkillsFuture courses cater to Singaporeans to help them develop their skill sets and explore career opportunities.
Besides training and development, workplace managers can play an active role in driving their employees to succeed in their careers. This is where feedback comes in as an effective way to motivate people and do better at work. But providing feedback isn't just about giving words of encouragement and correcting mistakes. Here are different types of feedback to unravel your employees' fullest potential.
Appreciation Feedback
Leaders who offer appreciation feedback value their workers. Diligence doesn't go unrecognized. Appreciation feedback serves as a driving factor for most employees. It can be as simple as showing gratitude for the effort put into a challenging project or acknowledging an employee for meeting a tight deadline.
This type of feedback often works best if you are more specific. Giving generic responses, such as "well done," may seem empty and meaningless if used regularly. Being detailed will make appreciation feedback more personal, which gives the recipient a strong reason to take pride in their work.
Guidance Feedback
This type of feedback provides leaders a chance to commend their team and offer advice. Combining it with appreciation feedback is equivalent to providing gentle reprimand without looking rude or forceful. You can use this feedback when looking for areas for improvement to give the person a chance to seek clarification and ask questions.
When done regularly, guidance feedback will condition employees to discover other ways to improve continuously. This drives the people to actively seek guidance, which leads to self-motivation. Managers who effectively use this type of feedback are more likely to become great leaders by inspiring employees to move towards the right path without forcing them to conform.
Forward Feedback
Mistakes happen all the time, but these are opportunities that require feedback the most. Forward feedback drives you not to obsess over others' mistakes but to focus on the learning and inspire a more positive future outcome. But this doesn't mean managers should tolerate mistakes, but they should realize that mentioning the past will only prevent the person from making future improvements.
Bringing up old mistakes actually gives way to a toxic work environment, where people are more pessimistic and lack confidence. This type of feedback offers the necessary context to give people a sense of purpose.
Encouragement Feedback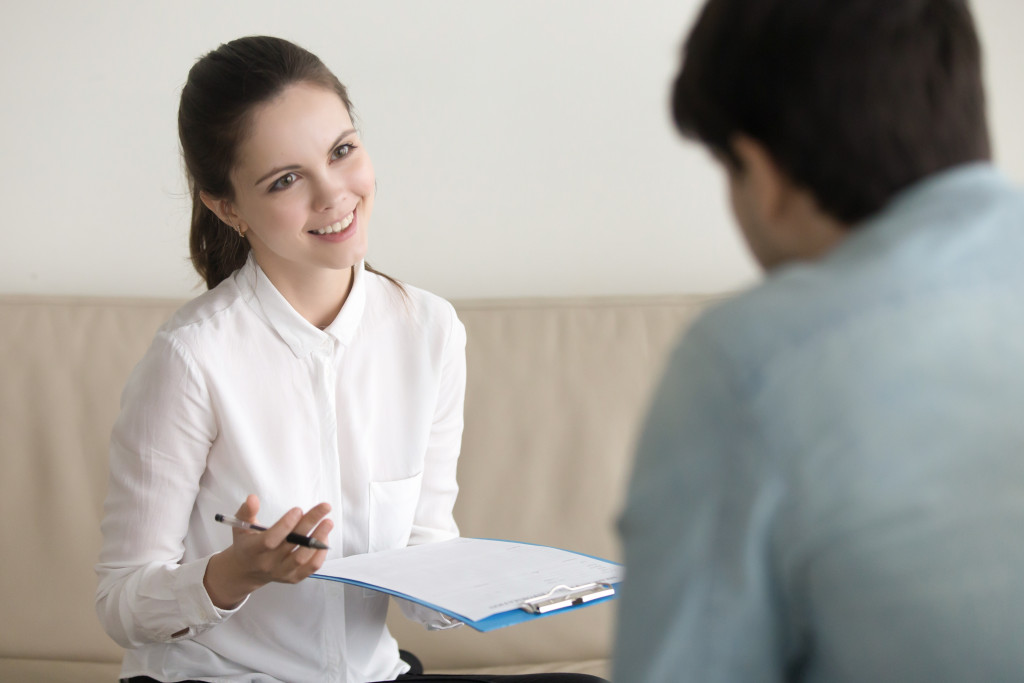 Another effective way to motivate employees is to offer encouragement feedback. This is somehow similar to other feedback types, but encouragement feedback is a much better way to improve morale, especially if someone is struggling at work. It also works for situations when the new hire arrives at the office.
New employees tend to be overwhelmed on their first day at work. Through encouragement feedback, you give them some extra boost for added motivation. This feedback works as a brief message for quick exchanges in the office.
Formal Feedback
This is one of the most obvious types of feedback in the workplace which takes the form of an annual performance review. It is a pre-planned or pre-arranged session that gives both the manager and employee to evaluate problem areas, open questions, and things that are improving.
Formal feedback sessions require using statistics and performance indicators to generate actionable insights. You can also use detailed information based on employees' work to give them a more in-depth look at their performance. The employer should also ensure the employee is aware of the topics to be discussed, so they can prepare. From there, the manager can determine if the person is reaching target goals and think of areas how they can contribute more to the company.
Coaching Feedback
This type of feedback applies to hands-on situations, such as employee training. Coaching feedback shares similarities with formal feedback, but it often involves providing reviews. For example, if the employee learns something new or requires upskilling, additional review will help drive their growth.
Coaching feedback is also an effective way to prevent employees from developing negative behaviors. Instead, the primary purpose of the feedback is to establish or maintain effective behaviors that promote personal growth and benefit the organization.
The Bottom Line
Using a variety of feedback in the workplace help establish a culture of feedback. It can play a critical part in promoting continued learning and professional development when done well. In turn, leaders should also aim to give constructive feedback frequently and promote self-feedback habits to their employees.