Small businesses play an integral role in community development. As an entrepreneur, you must consider involving your small business in the community as much as possible. Doing so creates good relationships and exposes your business in the most positive ways.
Getting involved in the community means making contributions to ensure its continued growth. It allows people to work and learn together, giving them opportunities to help, get help, find opportunities, and many more.
In addition, community involvement is a great way to market your business to the people in your area. As a small business owner in a small town, your market is quite limited. It's vital to attract as many of your neighbors to become your customers by actively participating in community events.
Here's how to do it.
Offer Discounts or Free Services
One of the best ways to help your community and the organizations within it is by offering free products and services. You can do this by partnering with libraries, schools, and nonprofit organizations.
Giving discounts and freebies will strengthen your image to the public, plus more people will learn about the existence of your business. Brand exposure is critical. Further, it's an excellent way to give back to the community.
Offering discounts or coupons via email is also ideal. It makes your loyal customers feel appreciated, knowing that you've taken the time to send them a personal message.
Organize Workshops for Local Businesses
If you have extensive knowledge about business management, marketing, or anything related to entrepreneurship, organizing workshops for small business owners is the way to go. You can teach your participants how to use technology in their business or talk about different marketing strategies nowadays. There are various topics you can tackle to help them learn more.
Helping business owners and those who want to start a business is good for your business. It gives your company a good reputation and puts you in a respectable position in the community.
Sponsor Charities and Local Events
Often, communities have theater productions, sports teams, parades, charitable organizations, and other community events that need donations from businesses and community members. Small businesses should consider working together to sponsor or donate to at least one organization in the community.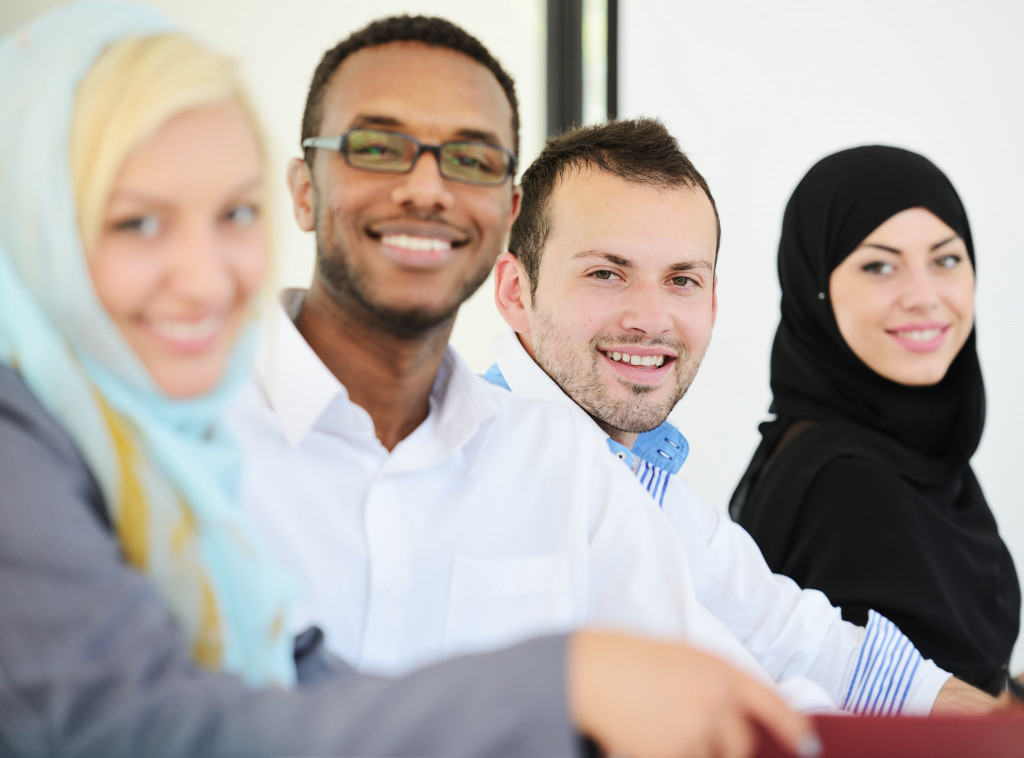 For instance, if your business sells winter clothes, you can donate some of your products to an organization dedicated to homeless people. Or, if you have a restaurant, you can offer free dine-in meals to the clients of bereavement services, which they can use as they overcome a difficult phase in their lives.
In addition, you can also sponsor schools, sports teams, and community fun runs. You may also get involved with charitable organizations, such as shelters and food banks. This ensures that your business gets exposed in the community as you help people in need.
Join Local Business Organizations
If you want to get involved in the community in the most substantial way, it's advisable to join the local chamber of commerce. Being a member of local business organizations allows you to connect with other local businesses and help you build your image as a reputable expert in the field.
Involving yourself in such organizations is also a great way to seek partnerships with businesses that complement yours.
Reach Out to Your Loyal Customers
Small businesses are pivotal in the growth of the economy. Similarly, loyal customers are vital to the success of a business. A recent study shows that a significant number of US consumers visit local or small businesses at least once a week, and 27% of them tend to revisit the same store in the same week.
Consumers do this because they like the loyalty and familiarity of small businesses. They trust them more because of their competitive pricing than big businesses. It gives them more reasons to make purchases in small companies.
Make sure to reach out to the customers who have contributed significantly to the success of your business. You can do this by giving them a platform where they can share positive feedback about their experiences in your shop. This nurtures customer relationships, which is also crucial to your success.
Attend Local Events
Often, organizers of local events invite business owners to participate. They can invite you to become one of their guests or give an inspirational speech. Make sure to attend these events as it's an excellent opportunity to connect with everyone in the community. It gives you the chance to meet people from different walks of life and allows you to have a broader knowledge of your target audience.
Each of these tips can help you gain the business exposure you need to reach more audiences. As you can see, involving your small business in the community have many benefits for your business and the community alike. Make it a habit to give back to the community as a way of saying thank you for their endless support.