Part of making business is being able to make your customers feel warm and welcome.  Simple acts can make a difference in how they would interact with your company, whether they would react positively to you and your staff, or they'd make a big deal out of small mistakes on your part. Putting effort in making them feel welcome will ultimately reflect on the progress of your business as they would feel more compelled to continue availing of your products and services.
Fixing the Workplace
One major contributor to the atmosphere of your business is the way your office feels. The usual but unappealing office workplace feels like a stressful environment where employees are always rushing, paperwork is strewn all over the place, and telephone calls can be heard upon entering the door. This might be a normal setting for your business, but it can push away customers that want to make business with you.
The first thing that you should fix is the appearance of the workplace, both inside and outside of your office. The exterior of your building should look clean and appropriate for the kind of products and services you offer. This will help invite more customers as they could easily identify your business and enter when they want to. The interior should also feel warm and welcoming as opposed to cold and unmoving. From the ceiling to the walls and floors, everything should be spotless and fitting for your business.
The next step is the lighting, sounds, temperature, and even smell in the work area. Lighting is crucial in eliciting different feelings to customers, so choosing the right kind of lighting system will help to make them feel more welcome in your facility. Unwanted sounds and noises can also hinder business transactions.
Loud phone ringers, the endless buzzing of your air conditioning, even unrepaired garage doors might be jarring for new customers, so consider repairs or alternatives that make less noise. The room temperature should be appropriate. Scents can linger in their minds even after leaving the place.
Managing First Impressions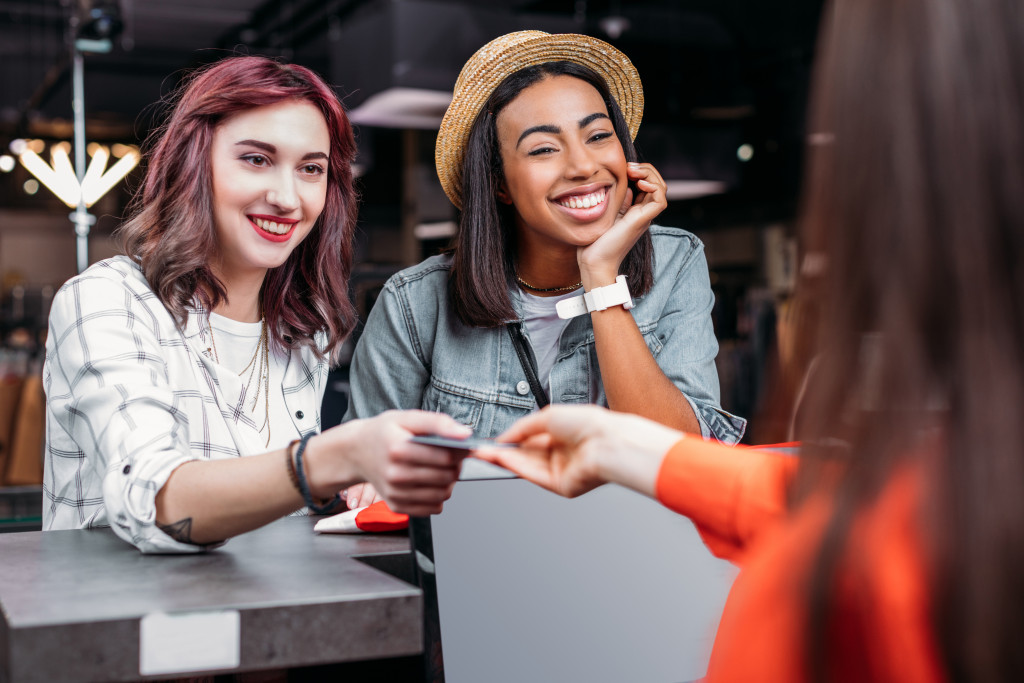 After adjusting the place to being a comfortable area for customers, your image should follow suit. As the person who will be conversing with your customers, managing how you look will make or break their first impression of you and your business. Appropriateness is an important factor in how you should appear. The clothes that you will wear, whether business formal or more casual, will depend on the kind of business that you have and the kind of customers that you cater to.
It is a good idea to wear a power suit if your clients are corporate professionals as well. However, you can benefit from wearing more casual and comfortable (but still professional) clothes if your customers are normal citizens that will feel more at ease with other averagely-dressed individuals. Your clothes, along with looking hygienic and well-put, should keep customers interested in your services.
With your physical appearance set, your words and actions should follow in making customers feel welcome. People are more attracted to a warm smile that can symbolize trustworthiness, something that many customers look for before making any transaction. Your warm greetings should come shortly after your smile to further welcome your client.
Thanking Them After the Deal
Lastly, even after your customer has left your office, you can continue making them feel welcome through thoughtful gestures of giving thanks. If you haven't already asked for their contact information during your physical interaction, you should do it before they leave the workplace. You can use this to send them your gratitude for choosing you and doing business with your company.
A thank-you note can go a long way. For regular and long-term customers, you can even go as far as continuing your communication with them, offering deals and products that they like, while being careful not to sound pushy or annoying.
All these small changes are only minor adjustments to your business. Whether it involves making yourself look more approachable or keeping the office workplace more appealing to the eyes, your customers will surely appreciate your grand efforts. And you will see how they thank you by coming back and continuing their relationship with your company. With this, you should be well on your way to serving your target market better and building trust and loyalty, which are the foundation of a successful business.